Here is the gallery of my 2000 Pontiac Firebird Formula. I bought this car brand new on May 18th of 2000. I looked up the manufacturing date of the car and it was built August 18th 1999. August 18th also happens to be my oldest son's birthday! I bought this car from Bishop Pontiac Oldsmobile down in Wadsworth which is not in business anymore. I have owned this car since it was new. The car came in the color "Blue Green Chameleon" according to the sticker but the general GM term for the color was "Mystic Teal Metallic". At the time I still owned my Chevy Beretta which was basically given to me by my parents as my first car, This Firebird was the very first "new" car I had ever bought and it was the first car I ever bought with my own money. I also bought a 1995 Olds Delta 88 for my main daily driver so the bird didn't have to see any winters as I sold the Beretta. I loved this car when I bought it and still do and I am happy to bring this story to all of the Pontiac enthusiasts out there!
Pontiac didn't offer a WS6 Package on any car that was in the chameleon color and at the time I was a 22 year old kid and hated leather seat but I still wanted the performance of the V8. My only option since Trans Ams came standard with leather was to buy a Formula and convert the car to a WS6 myself. Finding a Chameleon colored car in a Formula trim wasn't easy, GM only made 1516 Formulas that year and only made 45 in this color. Luckily the salesmen at Bishop Pontiac Olds who's names were Jim Marks and Larry Krause really took the time to find one of these Chameleon Colored Formulas for me. They found one in West Virginia that had only 20 miles on it, did a dealer trade for me and hauled the car up to Ohio for me. The original dealer that this car was delivered to was Thronhill Pontiac Buick GMC.
May 18th of 2000 I signed the papers and took this car home with me that night. The funny thing is the day I drove her home there was a really severe thunderstorm but this car handled like an absolute dream in the rain. I remembered pulling into the driveway and one of the automatic spotlights on the house came on and you could see the car change colors especially with the rainwater on her.
This car was originally a special order vehicle that a customer decided they didn't want once they saw the color so it had been sitting on Thronhill's showroom for months.
Standard Options on this car:
5.7 LIter LS1 V8
4 Speed automatic 4l60E Transmission
3.23 Axle Ratio
10 Speaker Monsoon System with CD Player
1SA Power Option with Passkey 2 and power driver's seat
Traction Control
Limited Slip Torsen Differential
Blue Green Chameleon Paint aka Mystic Teal Metallic (Code 79U)
Chrome Wheels
CD Player
Removable Hatch Roof (T-Tops)
Added Options
Ram Air Hood with SLP Air Induction, MAF Sensor and screen
Upgraded Koni Shocks
Elbach Springs
Custom Corsa Exhaust Catback with SLP exhaust system mods (headers, y pipe etc)
Goodyear Eagle Eagle F1 GSD3 tires
Stock GM 12 Disc CD Changer -

All cars came prewired for this if they didn't include it as an option in case you wanted to buy one later and install it

Strano Performance Front and Rear Sway Bars
Hawk Performance Brake Pads
Heavy duty zinc coated crossdrilled and slotted rotors from Rotors Online (

www.rotorsonline.com

)
The Story and Picture gallery continues below....
WS6 Conversion:
I started converting this car into a WS6 with all of the options. I first had the hood put on the car along with the air induction and the power steering cooler. I installed the air induction parts myself. The next thing to do was to upgrade the tires. While the standard goodyear RSA ties were ok, Goodyear made an amazing set of tires called the F1 GSD3. Once I put these tires on the car it handled a lot better and not only that, but it handled even better in the rain.
Then came a Ram Air hood and some air induction parts. The great thing about functional hood scoops is in 50 degree weather the car runs amazing! Recently I replaced the stock shocks with a set of Koni Shocks and the stock sway bars with hollow ones from Strano Motorsports. The car handled great before but now it handles like a dream! I drove it a lot during the summers of 2001 and 2002. In fact this car and the Pontiac brand became something I really became passionate about. I started reading about the Firebird's lineage and the history of what Pontiac was all about. Even pulled out books on the golden age of muscle cars and how Pontiac revolutionized this. I quickly became even more of a fan than I ever had been. I took the car to a lot of shows during these couple of years.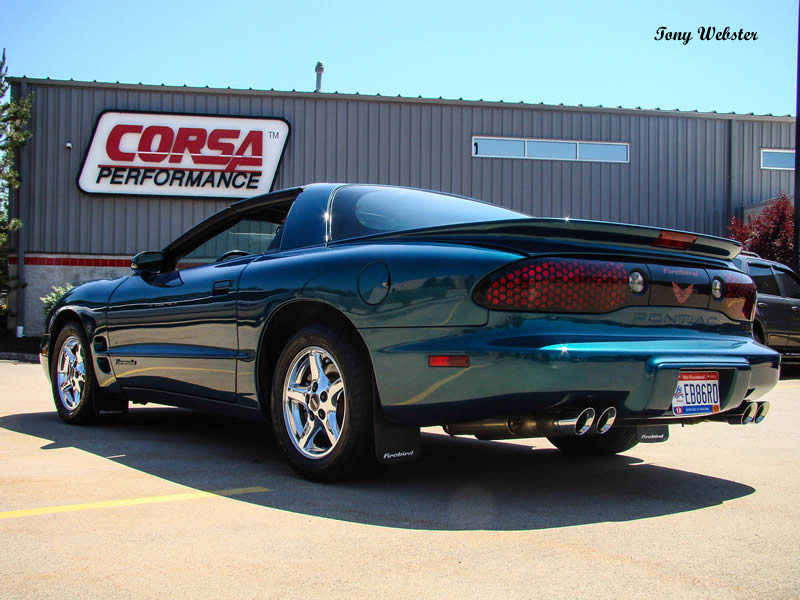 The exhaust is a combination of parts from different companies. The pipes which are stainless steel are all by SLP, and the catback from the converters up was installed in 2002 by Corsa performance. The Corsa cat is probably one of the best add ons I could have ever put on this thing. Nobody out there in my opinion makes an exhaust system that sounds quite like theirs. I remember back in 2002 when the company had just started getting into the business of making exhausts for cars. They didn't have many back in the day, Vipers, Corvettes, Cadillac Sevilles, and F Bodies were it back then. In fact the exhausts for Silverados and GM Suvs were just starting to come out. Corsa is literially a 5 minute drive for me so I went up there one day and met a salesman named Paul Santiago. He took me on what I would call a very impressive tour of the factory and then took me for a test drive in a 2002 Camaro SS.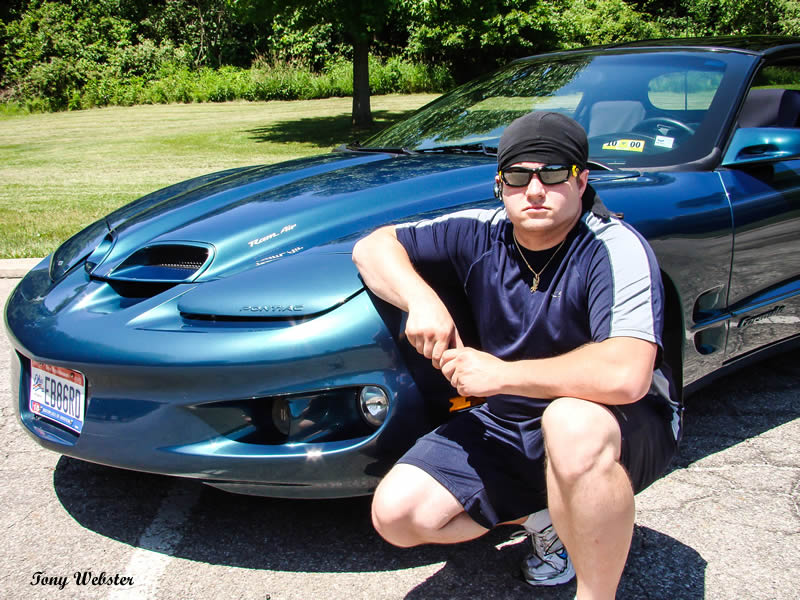 Man I was completely blown away by the feel of the Camaro and the tone and feel of this exhaust system. I knew I had to have one! So at this point I decided to make an appointment to purchase one and have it installed by Corsa. I did just that and in fact an hour later I got into my car and when I first hit the gas to go doqwn the road I knew I had made the right decision. What an amazing piece of engineering! The exhaust has a killer tone, no drone and at idle isn't that loud but watch out when you hit the gas pedal because it sounds AMAZING! In my book the quality and workmanship in their products is un-matched. The other thing that's great about this is the fact that their straight through design lets the engine breathe freely and added a good amount of power to my car so the engine not only runs more efficient but there's very little back pressure because of it for more horsepower and torque. All of their exhausts are stainless steel and the polished tips add a LOT to the car's appearance!
After 2002 I didn't drive the car much. In fact after driving it quite a bit during it's first couple of years other things came up that put my car hobby on hold. So the car sat in a garage, and on occasion I would take her on a joyride during a sunny day. My days of attending car shows stopped and it would be over 10 years until I would take this car to any type of show or even attend a car show. The interest was always there just never had the time or energy to do it. Then it struck me, the time came and I went nuts with my car.
By chance I ran into a few club members who were asking me for a donation while I was at work. That's when it hit me......there was a Pontiac Club who had been around a long time. I had some things going on in my life that were really bad at the time and I needed an outlet. So I decided to let my car hobby resume it's course! I took the liberty of cleaning out the engine bay which was a 6 hour job in itself. I then cleaned off the dust from this thing, gave it a good wash, a coat of wax and a coat of liquid glass. I did a lot of maintenance that was really needed then I also joined the North Coast Pontiac Chapter and P.O.C.I.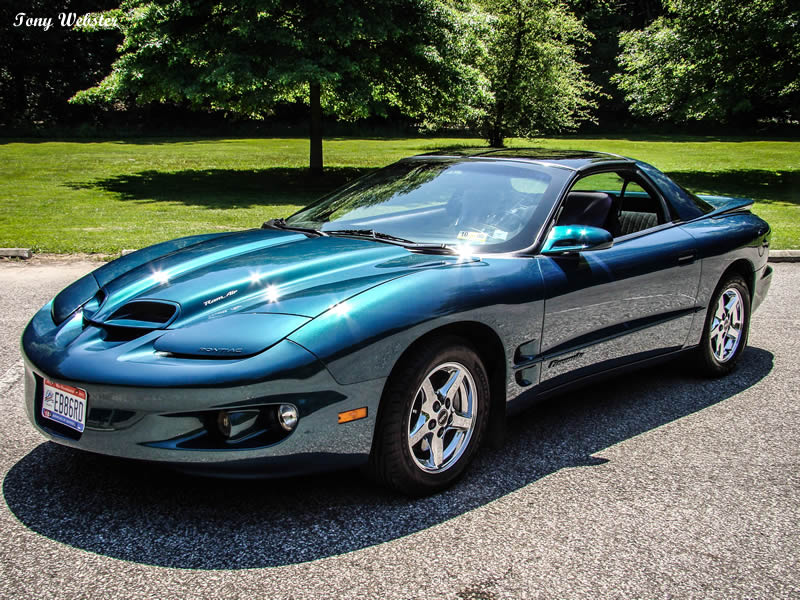 2013: I had custom fuel rail covers made color keyed to the car. These are awesome because when the sun shines on the car they change color along with the rest of the car itself. I then had a custom etched stainless steel battery cover made for the car, a custom PCM module cover and a custom fuse box cover out of mirrored acrylic. I also decorated the airbox with a corsa decal and a "last of the breed" emblem. This added a LOT to the underhood appearance of this vehicle. The fuel rail covers always intrigued many people because of the way they accent the car so well when the sun shines on it. The hood went from plain jane to looking really cool and being a hit with people at various car shows.
Some random facts about the 2000 Formulas and my car:
The late 4th Gen Formulas weren't common. In 2000 approximately 1516 were built. Many people either bought a Trans Am or the V6 car. I for one like the sleeper look the Formula has.
Only 45 Formulas were built in Blue Green Chameleon in 2000
Corsa was a GM Licensed company when I bought my exhaust
Blue Green Chameleon aka Mystic Teal Metallic was not a common color and many people at the time hated it. Now it seems people love it because it's just not that common anymore.
2000 was the last time you could buy a WS6 Formula. However if you bought Maple Red Metallic or Chameleon you couldn't order a WS6 Package from the factory.
2000 was the first year all cars came pre-wired for the 12 Disc Changers even if your car didn't have one. Some late 1999s also.
The exhaust Manifolds on 2000 models and up flowed more freely and allowed for more power.
Many racing enthusiasts loved using the Formula for SCCA racing as it's lack of ground effects, simple body design and power made it ideal.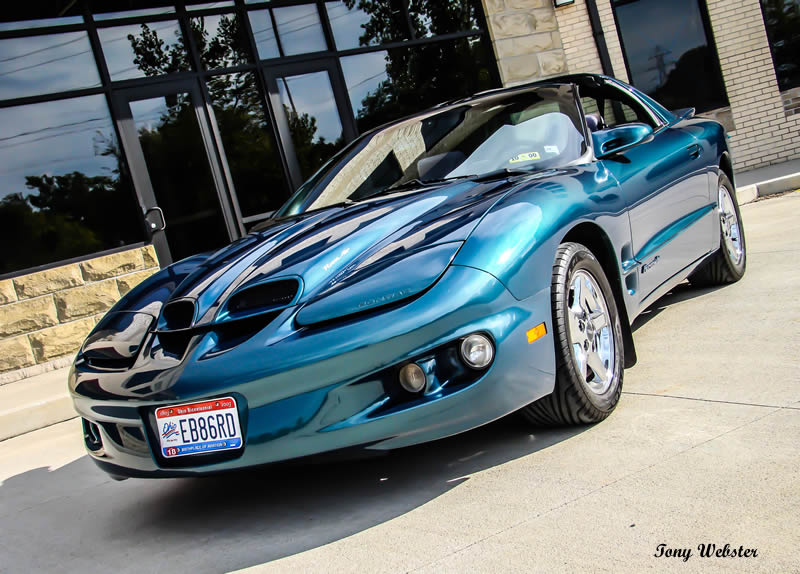 I joined the North Coast Pontiac Club a ltitle over a year ago. We have a great group of people and my passion for Pontiacs has never been higher. We are still expanding the owner's gallery on this website so stay tuned for more pictures of other members' and more to my story !! Also enjoy the other pictures added here. More to come!
-Tony Webster
At the Berea triangle
Original Window Sticker pre-Firehawk/WS6 Parts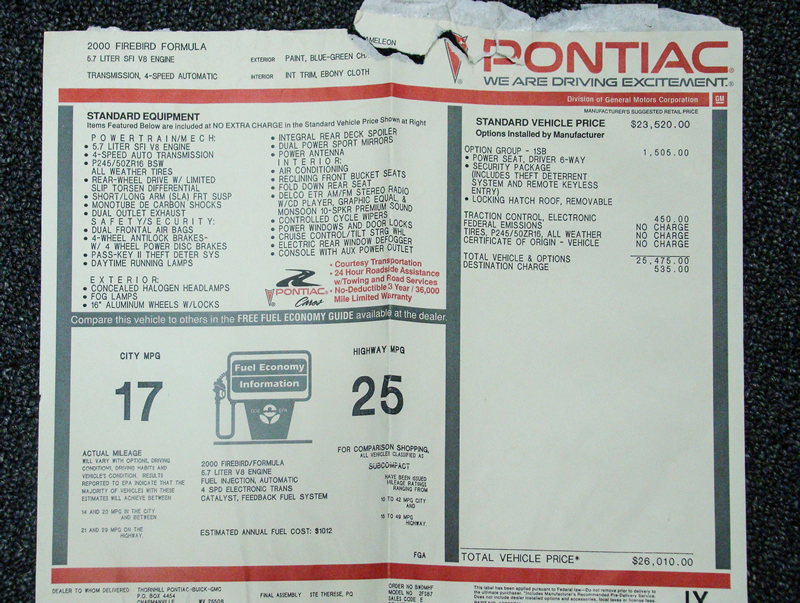 In front of Corsa's Headquarters
Edgewater Park